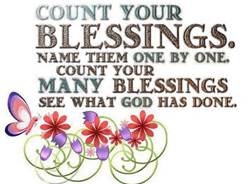 It is so easy to focus on the negatives these days with all that is occurring around the world.
With that said, this page is here to help you lift your head and seek the face of the Lord!
Listed are scriptures that will encourage you and turn your heart in the right direction.
I give thanks unto thee, O Lord, and sing praises unto thy name. (Psalm 18:49)
It is a good thing to give thanks unto the Lord, and to sing praises unto thy name, O most high: To show forth thy loving kindness in the morning, and thy faithfulness every night. (Psalm 92:1-2)
O give thanks unto the Lord, for he is good: for his mercy endure for ever.
(Psalm 107:2)
We give thanks to God always. (1 Thessalonians 1:2)
How Do We Start?
Sharing with others the wonderful blessings the Lord has given to you.
Journaling and documenting blessings and answers to prayer as a reminder of the Lord's faithfulness.
Rejoicing with others in the blessings in their lives.
Listening to praise music and singing along.  There is only room for one thought at at time in our minds.  Re-directing these thoughts: "Set your affection on things above, not on things on the earth." Colossians 3:2.
All take practice and an active choice to live in the freedom and victory that Christ gave us through His suffering, death and resurrection.
Be an encouragement to someone.  Give a hug, send a card, do an errand, give a helping hand.  Sometimes just a smile can makes someone's day.